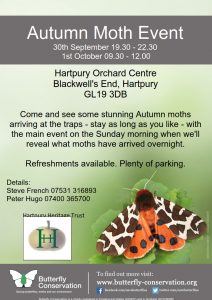 Due to forecasts of heavy rain this has been postponed, it is hoped that a new date can be arranged.
Come and see some stunning Autumn moths arriving at the traps – stay as long as you like – with the main event 9.30am on Sunday morning when we'll reveal what moths have arrived overnight.
Refreshments available. Plenty of parking.
Contact Steve French 07531 316893 or Peter Hugo 07400 365700