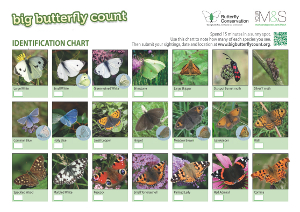 The big butterfly count is a nationwide survey aimed at helping us assess the health of our environment. It was launched in 2010 and has rapidly become the world's biggest survey of butterflies. Over 44,000 people took part in 2014, counting almost 560,000 individual butterflies and day-flying moths across the UK.
Butterflies react very quickly to change in their environment which makes them excellent biodiversity indicators.
Butterfly declines are an early warning for other wildlife losses.That's why counting butterflies can be described as taking the pulse of nature.
The count will also assist us in identifying trends in species that will help us plan how to protect butterflies from extinction, as well as understand the effect of climate change on wildlife.
Go to http://www.bigbutterflycount.org to download an identification chart and get more information.