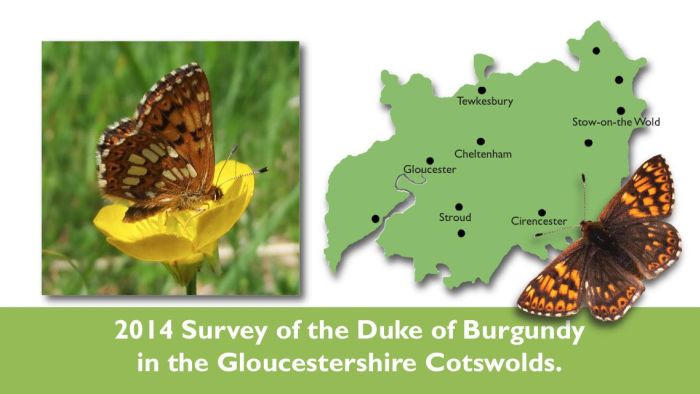 Sue Smith has kindly invited me to post on your new website Blog to promote the 2014 survey of the Duke of Burgundy butterfly in the Cotswolds.
The butterfly has declined rapidly across the country in the last 20 years and Natural England (Gloucestershire and South Gloucestershire Team), are keen to learn more about its distribution, abundance and ecological requirements in the county. This information will help them to assess management on their NNRs and SSSIs, draw up a long-term plan for landscape-scale conservation for the species, and hopefully, answer difficult questions like when to reintroduce the butterfly to a former site and when to let it recolonize naturally.
This work takes advantage of the work done under the current Biffaward Project Conserving Painswick Valleys' Rare Butterflies which is a partnership project between Gloucestershire Wildlife Trust, National Trust, Natural England, Oxford University, private landowners and led by Butterfly Conservation. The aim on that project is to improve habitat quality for both the Large blue and Duke of burgundy across 11 sites and to try and answer the conservation conundrum of how to manage for species that require both short and tall turf on the same sites and across landscapes.
The 2014 survey is being led by my colleague Sarah Meredith and myself with help from Chris Wiltshire who has an outstanding knowledge of the butterfly in Gloucestershire. We would be very grateful for any help with the survey that anyone can offer, and in particular:
First sightings of the butterfly, please email when and where as soon as possible.
All recordings of sightings on any known site.
All records of sightings on unusual or unknown sites.
To carry out timed counts on any population you can. Details of how to do this can be found at
http://www.ukbms.org/Downloads/UKBMS%20Ng1%20-%20Timed%20count%20guidance%20notes.pdf .
Even if you don't have time to carry out a timed count, just please record how many individual sightings you made on a site and how long you were there in flying weather.
Sarah and I will be based in the Cotswolds from Sunday 27th April and hope to arrange an evening meeting shortly afterwards where anyone is welcome to come to learn more about the project, I will supply an update of details of where and when to meet in the next couple of days.
To make contact with the project and to let us know if you are able to help in any way, or to report sightings, please email:
We look forward to working with you on this exciting project which, we hope, will lead to a larger conservation project for the species in the future.
Fingers crossed for some good weather!
David Simcox (Habitat Designs Ltd)