Click picture to enlarge it.
Selsley Common © Andrew D. R. Brown
Welcome to the Gloucestershire Branch of Butterfly Conservation
Save England's species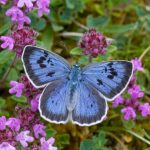 The Gloucestershire Branch of Butterfly Conservation is part of a major new project to save more than 100 of England's most threatened species from extinction. With a grant of £4.6m from the Heritage Lottery Fund, the 'Back from the Brink' project brings together conservation organisations to help protect key threatened species such as The Duke of Burgundy, Marsh Fritillary, Large Blue butterflies and the Barberry Carpet moth.
We want to find out more about your views on wildlife and saving threatened species. Please help us by going to the Nature Back from the Brink website www.naturebackfromthebrink.org and completing a questionnaire. Your views will help develop the project into one of the largest species recovery programmes to take place in England.
Thank you
Recent articles
Select Blog to see all articles.
Dec 09, 2015 - Minutes of 2015 AGM
The Gloucesterhire Branch AGM was held on 7th November. Here are the minutes of the AGM and the reports presented during the afternoon.
Jun 26, 2015 - Butterfly bonanza in Gloucestershire
Southwest Section members of the Chartered Institute of Ecology and Environmental Management  were very fortunate to see both imago and egg stages of the Marsh Fritillary butterfly Euphydryas aurinia at a beautiful limestone grassland reserve in Chalford, Gloucestershire.
Jun 25, 2015 - Rough Bank Field Visit, Sunday 21 June 2015
About 30 people attended the open afternoon along with Jennifer and myself. We split into three groups of ten to a group. Jennifer and I opted to join the group being led by Sue and Bob as we had met them before. It was our first visit to the reserve and as we set off […]
May 18, 2015 - Stroud Festival of Nature
The Stroud Festival of Nature is a two week celebration of nature of all forms in and around Stroud. There will be a launch event on Saturday 13th June at the Subscription Rooms in the centre of Stroud followed by a wide range of events – including butterflies and moths.
Apr 22, 2015 - Moth Crossword – solution
The spring 2015 issue of Antennae contained a 'Moth Crossword'. If you are not ready to see the solution yet then please do not click the link.
Events occurring soon
Select Events to see all events.
Sep 20, 2016 14:30 -
Prinknash Butterfly Nectar Garden Weeding Session
Preparation for our next next open day. Helpers always welcome but if you are not a 'regular' then phone in advance in case of a late change of time or day.
Sep 25, 2016 12:00 -
Prinknash Butterfly Nectar Garden Open Day
The Butterfly Nectar Garden at Prinknash is part of the walled garden owned by the monks at Prinknash Abbey, near Cranham, Gloucester GL4 8EX. Members of the Branch will be on hand to answer questions about butterflies and plants and Butterfly Conservation in general. No charge for the garden entry. There is a large car park and a café.