Marsh Fritillary © Ken Cservenka
Click here to see a larger picture.
Welcome to the Gloucestershire Branch of Butterfly Conservation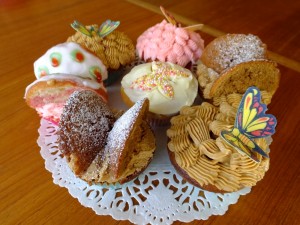 For one week only 13-21 September the following tea shops/bistro are offering special butterfly cakes with a donation to Butterfly Conservation:
• Star Bistro, Pepper Crescent, Cheltenham
• Star Bistro, Ullenwood, Cheltenham
• Well Walk Tea Rooms, Cheltenham
• Jacks, Black Jack Street, Cirencester
Other events being held are:
• Stanton Rooms, Charlton Kings, Cheltenham
2-4 pm, Monday 15 September 2014
• Eastcombe Scout Hut
11.30 am, Monday 29 September 2014
Why not run your own event – for further details contact Sue Smith via the Committee & Contacts page.
You can still help by donating to Butterfly Conservation via the Just Giving page  https://www.justgiving.com/BigButterflyCakeBake even if you are unable to join in any of these events.
Recent articles
Select Blog to see all articles.
Sep 03, 2014 - A selection of photos from the Rough Bank opening
Here are some photos taken at the Rough Bank opening on 28th August 2014.
(Please note: This post takes a while to load because of all the photos.)
Sep 02, 2014 - Rough Bank Field Meeting, 30th August
Our first field trip to Rough Bank after the official opening was to look for late summer butterflies, especially the Adonis Blue.
Sep 02, 2014 - Opening of the Rough Bank Reserve, 28 August 2014
At last, the site has finally been officially opened! Numerous supporters were present to witness the Chair of Natural England, Mr Andrew Sells, officially declare the reserve open.
Jun 14, 2014 - Field Trip to Crickley Hill 8th June
Fourteen of us gathered at the Visitor Centre for the field trip at Crickley Hill. Bob Wills who currently does the transect there and David Perkins who used to do the transect came along to show us the best places to see the butterflies.
May 25, 2014 - Bill Smyllie and Masts Field Event
Thirteen people attended this event today. Led by Tricia Atkinson and John Coates, the clouds parted right on cue, the sun shone and the butterflies (and a few moths) came out to play!
Events occurring soon
Select Events to see all events.