Click picture to enlarge it.
Small Heath and Brown Argus sharing a perch Roosting butterflies at Daneway Banks © Sue Smith
Welcome to the Gloucestershire Branch of Butterfly Conservation
Save England's species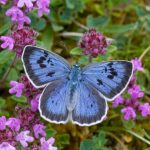 The Gloucestershire Branch of Butterfly Conservation is part of a major new project to save more than 100 of England's most threatened species from extinction. With a grant of £4.6m from the Heritage Lottery Fund, the 'Back from the Brink' project brings together conservation organisations to help protect key threatened species such as The Duke of Burgundy, Marsh Fritillary, Large Blue butterflies and the Barberry Carpet moth.
We want to find out more about your views on wildlife and saving threatened species. Please help us by going to the Nature Back from the Brink website www.naturebackfromthebrink.org and completing a questionnaire. Your views will help develop the project into one of the largest species recovery programmes to take place in England.
Thank you
Recent articles
Select Blog to see all articles.
Dec 09, 2015 - Minutes of 2015 AGM
The Gloucesterhire Branch AGM was held on 7th November. Here are the minutes of the AGM and the reports presented during the afternoon.
Jun 26, 2015 - Butterfly bonanza in Gloucestershire
Southwest Section members of the Chartered Institute of Ecology and Environmental Management  were very fortunate to see both imago and egg stages of the Marsh Fritillary butterfly Euphydryas aurinia at a beautiful limestone grassland reserve in Chalford, Gloucestershire.
Jun 25, 2015 - Rough Bank Field Visit, Sunday 21 June 2015
About 30 people attended the open afternoon along with Jennifer and myself. We split into three groups of ten to a group. Jennifer and I opted to join the group being led by Sue and Bob as we had met them before. It was our first visit to the reserve and as we set off […]
May 18, 2015 - Stroud Festival of Nature
The Stroud Festival of Nature is a two week celebration of nature of all forms in and around Stroud. There will be a launch event on Saturday 13th June at the Subscription Rooms in the centre of Stroud followed by a wide range of events – including butterflies and moths.
Apr 22, 2015 - Moth Crossword – solution
The spring 2015 issue of Antennae contained a 'Moth Crossword'. If you are not ready to see the solution yet then please do not click the link.
Events occurring soon
Select Events to see all events.
Jul 15, 2016 00:00 -
Big Butterfly Count
The big butterfly count is a nationwide survey aimed at helping us assess the health of our environment. It was launched in 2010 and has rapidly become the world's biggest survey of butterflies. Over 52,000 people took part in 2015, counting over 580,000 individual butterflies and day-flying moths across the UK.
Aug 6, 2016 09:30 -
Barnwood Arboretum 'Moth Breakfast'
Come and see what moths have been recorded in the overnight traps at this jewel of a reserve.
Aug 6, 2016 11:00 -
Coombe Hill, Wotton-under-Edge
Coombe Hill is a 15.4-hectare (38-acre) biological Site of Special Scientific Interest in Gloucestershire. The site lies within the Cotswold Area of Outstanding Natural Beauty and the Cotswold Hills Environmentally Sensitive Area. The hill is a large, unimproved limestone grassland pasture area, with an ungrazed area and an edge of broadleaved woodland (along the western […]
Aug 7, 2016 10:30 -
New Members' Butterfly ID Training Day
Every summer we run an identification day which starts at The Royal William hotel in Cranham and is especially for new members. This event is always popular and is a chance to improve your skills and meet fellow butterfly enthusiasts.
Aug 13, 2016 14:00 -
Poor's Allotment
Poors Allotment is a fantastic example of acid grassland and heathland and we expect to see a good range of widespread and common butterflies andother wildlife.
some interesting wild flowers.