Click picture to enlarge it.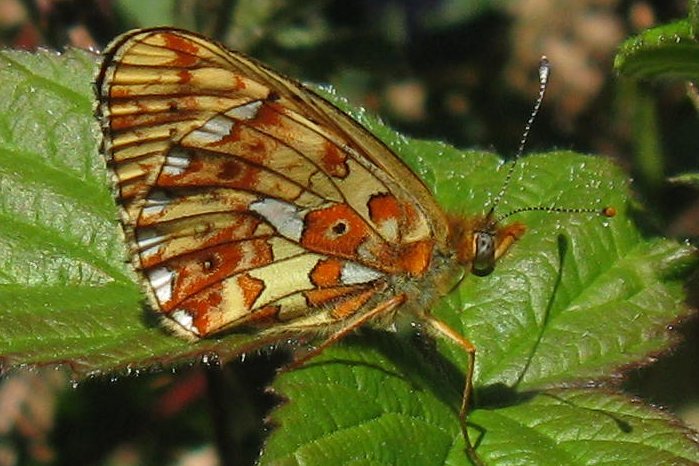 Pearl Bordered Fritillary An obliging Pearl Bordered Fritillary with wings closed taken in Botany Bay, Overley Wood 1st June 2013 © Sue Dodd

See us on social media
Facebook - Gloucestershire Moths Group
Facebook - Gloucestershire Butterflies Group
Welcome to the Gloucestershire Branch of Butterfly Conservation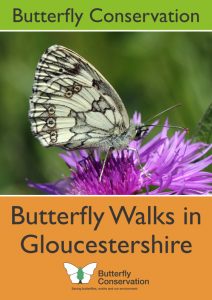 Our new Gloucestershire Walks booklet is now available so you can discover for yourself some of the wonders of our beautiful county. Click here for details about purchasing your own copy.
Gloucestershire is a wonderful county for nature and offers something for everyone. We have a wide range of habitats including urban areas in Gloucester and North Bristol, wild areas in the Forest of Dean, open commons such as Minchinhampton and Rodborough, old quarries like Breakheart near Dursley.
There are well over 100 Sites of Special Scientific Interest (SSSIs) containing a variety of rare and interesting plants, insects and other wildlife. Butterfly Conservation owns three reserves in the county - the Bill Smyllie Reserve, the Masts Reserve and Rough Bank.
Nearly 50 species of butterfly and over 1700 species of moth have been recorded in the county.
To learn more about the Gloucestershire branch of Butterfly Conservation please look at our About page or just start exploring the website.
Recent articles
Aug 24, 2017 - Rough Bank Tour
Read about our photographic tours of Rough Bank.
Apr 11, 2017 - £1000 grant from Gloucestershire Naturalists' Society
The Gloucestershire Branch was delighted to receive a cheque from Gloucestershire Naturalists' Society (GNS) which will pay for the creation and production of the Prestbury Leaflet, the updated Rough Bank leaflet planned for later this year, and a new sign board for the butterfly nectar garden at Prinknash Abbey.  This will be a great help […]
Apr 08, 2017 - Updated 'white squares' map
The white square map showing the distribution of butterfly records, has now been updated.  We still desperately need volunteers to record in the 'white' areas – these are areas for which there are no records.  If you live in or near these places or regularly visit them and can confidently identify butterflies, please could you […]
Mar 29, 2017 - New Leaflet for the Prestbury Hill Reserves
We are lucky in Gloucestershire to have three Butterfly Conservation Reserves. Two of them, known as the Masts Field and Bill Smyllie Reserve, are linked as the Prestbury Hill Reserve. The Prestbury Hill Reserve adjoins Cleeve Common – which covers most of Cleeve Hill, the highest point of the Cotswolds. This is one of the […]
Select Blog to see all articles.
Events occurring soon
Select Events to see all events.
Sep 30, 2017 19:30 -
Autumn Moth Event
Come and see some stunning Autumn moths arriving at the traps – stay as long as you like – with the main event on the Sunday morning when we'll reveal what moths have arrived overnight.
Oct 2, 2017 14:15 -
Prinknash weeding session
This is a weeding session to prepare the garden for the winter. Extra hands are always welcome. If the weather is bad then another day during the week may be used instead so please contact Tricia Atkinson.
Oct 12, 2017 -
Moth Night 2017
Organised by Atropos and Butterfly Conservation, Moth Night is the annual celebration of moth recording throughout Britain and Ireland by enthusiasts with local events aimed at raising awareness of moths among the general public. In association with the Biological Records Centre at the Centre for Ecology & Hydrology. The theme this year is ivy. More […]
Oct 28, 2017 14:00 -
Gloucestershire Branch AGM
Peter Eeles who runs the www.ukbutterflies.co.uk website will be our speaker.
Nov 11, 2017 09:30 -
Butterfly Conservation AGM and Members' Day
Butterfly Conservation national AGM in Cheltenham.