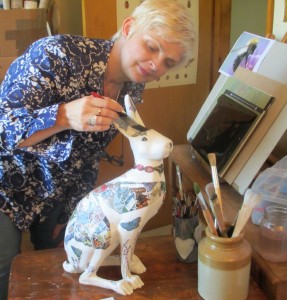 A statue of a hare has helped raise funds for a newly opened National Nature Reserve in the Cotswolds set to become home to a previously extinct butterfly.
The hare, decorated in butterfly and moth paintings by Gloucestershire artist Cath Hodsman, was sold at auction along with 49 others as part of the Cirencester March Hare Festival over the summer.
The community art project raised thousands of pounds for the Gloucestershire Wildlife Trust, but Cath, a member of Butterfly Conservation's Gloucestershire Branch, decided she wanted the £600 raised from her statue to go towards the conservation of butterflies at the Rough Bank Reserve instead.
Set in the Slad Valley near Stroud, the site was officially opened by Butterfly Conservation earlier this year. The wildlife charity is hoping to reintroduce the globally endangered Large Blue butterfly to the reserve sometime in the future.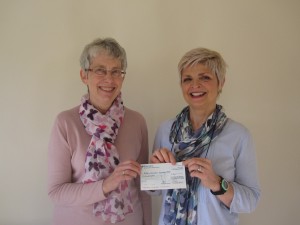 A cheque was presented to Sue Smith, Chair of Butterfly Conservation's Gloucestershire Branch, earlier this week. She said: "Mariposa – the hare painted by Cath – was really beautiful and I'm not surprised it sold for such a high amount.
"We are delighted to receive this generous donation, which will go towards the conservation of butterflies on our Rough Bank Reserve near The Camp."
Cath Hodsman said: "I really enjoyed decorating Mariposa but I was more thrilled that it raised £600 for Butterfly Conservation –one of my favourite conservation charities."
Notes
The Cirencester March Hare Festival was organised in the summer by Florence Beetlestone. On October 24th the hares were auctioned off, raising more than £100,000. The majority of funds went to the Gloucestershire Wildlife Trust (GWT) to improve and link Cirencester's green spaces and create a new nature trail around the River Churn.
The Rough Bank National Nature Reserve is a Site of Special Scientific Interest (SSSI) and is home to 33 species of butterfly, 38 species of nationally scare moths and 12 species of orchid. It is also one of the few sites in the country where it is possible to see six species of blue butterfly.
Contacts
For further pictures or interviews, please contact Katie Callaghan at the Butterfly Conservation Press Office on 01929 406037, or email kcallaghan@butterfly-conservation.org