You can now show a small OS map for a grid reference that you specify. There is a change to the way the pictures on the home page work. And we need more pictures!
I have changed the 'Useful maps' page – see menu on left.
The main change is a facility for showing a map for a grid reference that you specify. This is to help with situations such as 'meet at GR123456' when you don't have the right OS map. While it is intended for use around here I have checked it with grid references from the Scillies to Shetland. The size of the maps shown is fixed by the Ordnance Survey licence but you can change the scale and move around on the map.
The other map change should be invisible to you as it's a 'geeky' change to the way the page actually works. Let me know if you have any problems or suggestions for improvement.
I have also changed the way that the 'random picture' works on the home page. (In case anyone has not noticed the picture changes every time you go to the home page.) To see a larger version of a picture just click on it and to return to the smaller picture click again. I think this is a lot tidier than before.
By the way, if you keep clicking 'Homepage' on the menu you will eventually see all the pictures.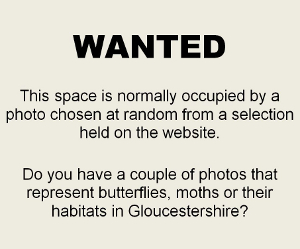 Sometimes you see this picture on the home page. All of the pictures used have been provided by members of Butterfly Conservation. If you have some photos that relate to Gloucestershire butterflies or moths and that you would like to see on the website then just send them to me, if you can give a short caption that's great but it is not essential. Don't worry too much about duplication of species so long as they are not almost identical pictures. If you want to see all of the photos that are there so far look here.