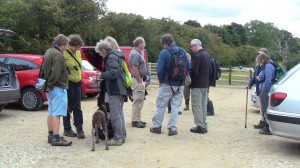 Our host, Chris Wiltshire, greeted us at the newly-created car park, the reserve having been officially opened only two days before. This recent addition to Butterfly Conservation's reserves is jointly managed with Natural England and The National Trust. Despite the chilly autumnal feel in the air twenty-two enthusiastic people showed up, three of whom were to sign up as new members.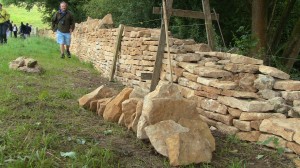 The reserve comprises both traditional limestone grassland as well as some semi-improved damp pasture. A hay crop was about to be cut from the latter that evening. With great pride Chris revealed the considerable achievements that had taken place over the past year, including new gates and fencing, a drainage ditch, dry stone walling and scrub clearance.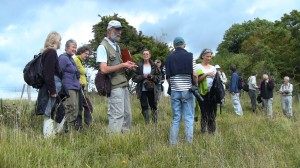 Following an introductory talk the group ambled down the gently-sloping pasture towards the head of the valley, noting several fresh Small Tortoishells, a Meadow Brown, a Green-veined White and a number of not-so-fresh Common Blues. Once through the narrow corridor above the beechwoods below a wonderful vista opened up, looking westwards into the valley complex that leads to Snow's Farm, Slad and Bull's Cross. Although records show that the Duke of Burgundy once existed here Chris explained how the reserve is being groomed for its possible natural reintroduction. Prevailing southwesterly winds could easily carry adults from other colonies in the area.
As we made our way along the top of the grassy slopes the brisk cool breeze precluded much in the way of butterfly observations apart from several more Common Blues, a Peacock and a single Brown Argus. Our target species for the day was the Adonis Blue but so far none had appeared. Perhaps we would find some later in more sheltered areas down the slope. Controlled grazing would be introduced later to improve the habitat.
Having soaked up the wonderful views from the crest of the hill we headed diagonally down the slopes noting the abundance of late summer wildflowers such as Devil's-bit Scabious, Autumn Gentian, Clustered Bellflower and even a few Autumn Lady's-tresses. A cry went up as our first Adonis Blue appeared and more were to follow. Scrambing down to lowest sloping meadow we were greeted by many more butterflies. Less than fresh Common Blues were by far the most abundant, the species having enjoyed a particularly good year. A handful of very worn Chalkhill Blues were still on the wing as well as the odd Meadow Brown, but gradually more and more Adonis Blues appeared including some very fresh specimens, delighting the photographers in the group. Close to a dozen were eventually counted, rounding off a very pleasant and successful afternoon.