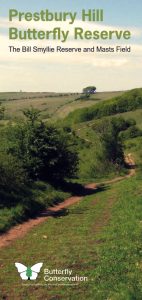 We are lucky in Gloucestershire to have three Butterfly Conservation Reserves. Two of them, known as the Masts Field and Bill Smyllie Reserve, are linked as the Prestbury Hill Reserve.
The Prestbury Hill Reserve adjoins Cleeve Common – which covers most of Cleeve Hill, the highest point of the Cotswolds. This is one of the most extensive areas of limestone grassland in the Cotswolds, encompassing surrounding areas of private farmland as well.
The two parts of the reserve were purchased in 1992 and 1994, starting with a generous donation from Dr Bill Smyllie, an international expert on the Brown Argus butterfly. The beech wood separating the two parts is not owned by BC.
The Masts Field is part of a Site of Special Scientific Interest (SSSI) – legal protection for our most important areas for nature conservation. The reserve lies within the Cotswold Area of Outstanding Natural Beauty (AONB) and is designated Open Access land so may be enjoyed on foot in accordance with the regulations.
The new leaflet is printed on good quality A3 paper and folded so that the front looks like the picture shown – click it to see a larger version. The leaflet will be available at most Gloucestershire branch events and will be sent to new members in their introductory package. A version suitable for A4 printing can be downloaded here.
The cost of the new leaflet was supported by a generous donation from the Gloucestershire Naturalists' Society.
Our third reserve is Rough Bank, we have a downloadable temporary leaflet and plan to produce one similar to the Prestbury Hill leaflet. An Ordnance Survey map showing its location is on our Useful maps page.